Meet the team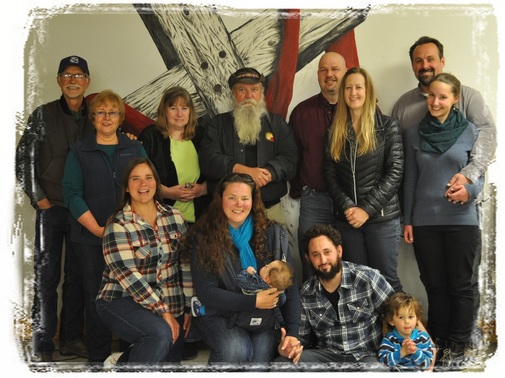 It needs to be said that when it comes to our team, labels don't even come close to describing everything each one of us does on a daily basis.
None of us knew what our ministry would look like when we first moved out to Pine Ridge Reservation, but one thing is for sure: We all believe God has specifically and personally called each of us to be in Oglala. We are by no means heroes of the faith or spiritual giants, yet we want to be able to say with Paul, "Imitate me,
as I imitate Christ"
(1st Corinthians 11:1).
---
Pastor Eric & Ela Sutton

The life-long Chicago Bears Fan grew up in Florida and came to Oglala in spring 2001. He enjoys riding his motorcycle and playing "Settlers of Catan" - at least when he's winning! In 2011, his now-wife Ela first came to visit as an exchange student from Germany. She soon got hooked, to Eric and to the ministry. Ela is very artistic and a great listener and can already speak Lakota better than any one else in our team. During the past school year, she volunteered as a teacher at our local Christian school, Oyate. The Suttons are now expecting their first baby, due in October!

---

Terry & Kathy Michels,
Childrens' Pastors

When Terry & Kathy came from Ohio to Oglala in 2002, they had no idea what wonderful ministry God had in store for them. Since then, they have been serving the children of Oglala with never ending love and dedication. Terry also takes care of every poor old rez dog that shows up by his porch. They love Jesus, children, driving through the Black Hills, bird watching, and sitting at the campfire.

---

Wendell & Kim Gehman,
Board Member

The couple makes their home in Hot Springs, just south of the Black Hills. Together they have four wonderful kids, three sons and one daughter, as well as two cats and a dog. They enjoy soccer, hunting, golf, camping, and other outdoor family activities. Wendell and Kim have been vital parts of our church family since the very start. Wendell was a Science teacher at Red Cloud Indian School on Pine Ridge Reservation for 19 years; in 2014 he took on a new calling as the principal of a small Christian school in Oglala operated by Oyate Concern Inc.

---

Harry & Robin Sager,
Board Member

The Sagers are farming and ranching their family land south of White Clay, NE. They have five children and several grandchildren. They enjoy camping, fishing, and having their family over. Harry and Robin have been active members of our church family since the very beginning; Harry is also a board member.

---

Pastor Leon & Mary Schwartz,
Youth Pastors

Leon grew up in Florida and came to Oglala in spring 2001. He loves studying the Word of God, Science Fiction, movies, and soccer. His wife Mary joined the team in fall 2008 as a missionary from Germany. She is an addicted hiker and still misses the German forest and bread. Together they lead the teen ministry and organize various youth events. In 2013 their beautiful son Sylvan joined the family, and in 2015 they welcomed princess Zelda.

---

Heidi Martin,
​Mission Team Coordinator

Born in Florida, Heidi grew up in Pennsylvania and loves the beach, making music, and gardening. From 1996 to 2003 she lived in Oglala, where she ministered through her many gifts and contagious smile. In 2009, she moved back to Oglala and since then has been a blessing to the Rec Team and the community as she cooks, leads worship, and teaches kids how to garden. Heidi is also our mission team coordinator and the person to get in touch with whenever anyone wants to know more about our ministry.

---

Elliot & Crystal Morales,
Outreach

Elliot and Crystal were born and raised in New York City. Shortly after getting married in 2005, they moved to Concord, NC where Elliot attended and graduated from FIRE School of Ministry. After serving there for 9 years, the Lord laid it on their hearts to move to South Dakota and serve on Pine Ridge Indian Reservation. They joined the Rec team in summer 2017 as outreach pastors. Their desire is to see people walking in freedom and in love with Jesus. In December 2016 they welcomed their daughter, Everly Hope, through the wonderful gift of adoption.

---